History of Grosvenor and Hilbert Park
---
Grosvenor and Hilbert Park, which is made up of Grosvenor Recreation Ground (the towns oldest public park) and Hilbert Park still contains some original historic features (such as the dripping wells and Marnock Lake). These original features have recently been refurbished thanks to Heritage Lottery and Big Lottery Funds.
From the 1800s to now…
In 1889 the town of Tunbridge Wells was created and John Stone Wigg, who became the first mayor, offered to present to the town four acres of land adjacent to the old waterworks on condition that the whole area be made into a public recreation ground (Conveyance of Land). This, the area now known as Grosvenor Recreation Ground, would provide a recreational area for the northern part of the town which did not have the benefit of the Commons as open space.
Robert Marnock became the main designer for the park. Marnock is now recognized as one of the most outstanding designers of the Victorian era, he also laid out Alexandra Park in Hastings and Calverley Park in Tunbridge Wells. The works for the Grosvenor Recreation Ground, as it became known, were carried out in 1888 and 1889 and included an Upper Lake with grottoes, a pair of Lower Lakes linked by a bridge (in 1934 the lakes were filled in), winding walks, a park keeper's cottage and tree and shrub planting.
Grosvenor Recreation Ground opened in July 1889 and the Calverley swimming baths became part of the site the following year (these baths closed in 1948). Other facilities added in subsequent years included a children's playground (1893), a bandstand (1899), tennis courts (1904-05) and a bowling green (1913).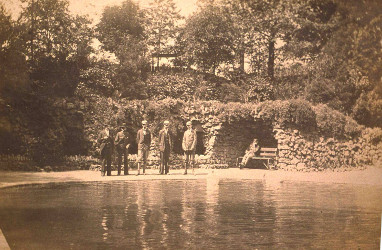 In 1931 Councillor Edward Strange presented the Council with a portion of the adjoining Charity Farm as an extension to Grosvenor Recreation Ground (now known as Hilbert Recreation Grounds).
It was to be named after his mother, Lydia Hilbert. The Charity Farm lands included two small woods (Folly Shaw and Roundabout Wood) with streams running through them.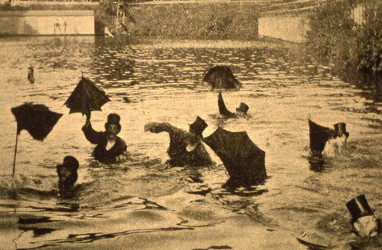 By 1937, two football pitches had been added and Strange had donated a further three acres including an Oast House. During World War Two the Grosvenor Recreation Ground was used by the Council's Emergency Committee to construct a British Restaurant, a building that survived, latterly as the Satellite Youth Club, until 2003.
The Grosvenor and Hilbert Recreation Ground has remained free from development and supports a wide range of flora and fauna with the two woods being designated as a Local Nature Reserve.