The Mayor of Tunbridge Wells
---
The Mayor and Mayoress for 2021-2022 are Cllr Chris Woodward and his wife, Mrs Jenny Woodward.
Councillor Chris Woodward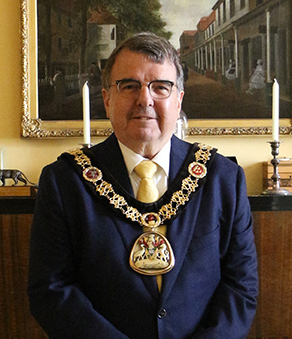 Born in Uxbridge in 1945, Chris spent his school years in Nigeria and Southern Rhodesia (now Zimbabwe). He describes himself as being a white African; certainly, some of his heart remains in that continent.
He won a scholarship that enabled him to attend university at Imperial College, London studying electrical engineering. Although graduating in 1967, the most important event of that year was marrying Jenny (a Londoner). They are the parents of six children (raised and schooled in Tunbridge Wells and Tonbridge), and currently grandparents of eight. Jenny, always a keen dancer, focused instead on her roles as wife and mother; according to Chris, she did so with remarkable ease and self-sacrifice.
In 1967, Chris entered the information technology (IT) industry, first for Britain's main computer manufacturer at the time, then for a British vehicle-components manufacturer, and subsequently a US-based international bank. In 1976, the year he and Jenny moved to Tunbridge Wells, he joined six others in setting up a new European business, providing IT-strategy consulting and IT-best-practice research. The company was subsequently 'listed' and then bought by a large US IT consultancy. In 2003 Chris formed a small independent IT consultancy, addressing IT value-for-money concerns of large organisations. He retired from commercial practice in 2017.
His decision in 2003 to work for himself allowed Chris to give time to serve in the community of Tunbridge Wells; he was elected to the TW Borough Council in 2006. Besides actively representing his residents, he's served in many other capacities including membership of Licencing, Planning, and Overview & Scrutiny committees, most recently as chairman of the latter. For over five years he has been a Trustee of Number One Community Trust, which supports the needs of residents of Ramslye and Showfields, as well as a Commons Conservator.
Chris and Jenny have been members of the Church of Jesus Christ of Latter-day Saints for over 40 years, serving in many capacities, including running the local unit of the Church for about five years in the 1980s. Chris, once a keen rock climber, squash player, coastal sailor and motor biker, has now adopted, as his current 'figure' reveals, the more sedate activity of rambling and occasional flurries into badminton and squash. Jenny continues to engage in dance, runs a regular keep-fit class, attends aerobics classes, and swims each week – all while continuing to care for her immediate and extended families.
Chris' theme for his Mayoral year is The Rising Generation, i.e. the children and young adults who will become the leaders of the future. He is keen to hear their voices and learn of the contributions they're making that benefit their communities and society at large.