The Mayor of Tunbridge Wells
---
Councillor Godfrey Bland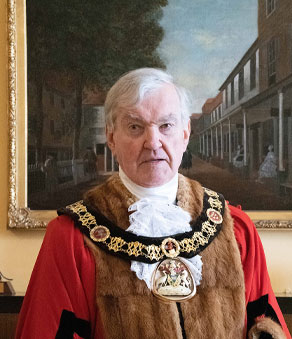 Godfrey Bland has represented the Hawkhurst and Sandhurst wards on the Borough Council since 2015.
Godfrey was born in Canada while his father was serving in the Canadian Army. The family moved frequently through his father's work for a major oil company; by the age of nine they had lived in Puerto Rico, the Dominican Republic, Jamaica and Kenya. When he became old enough, he was sent back to the UK for school, first in Northern Ireland, then in Yorkshire, staying with family in Ireland during the holidays. Godfrey went to Oxford University and read Modern History. He joined the university team for Modern Pentathlon, winning a Blue three times and captaining the University against Cambridge in his final year. He was later selected to represent Ireland at the Tokyo Olympics – a position he was sadly unable to take up.
Godfrey moved to London after leaving university, where he met and later married his wife Olga. He worked for a number of major food companies, starting as a salesman and working his way up to Sales and Marketing director, then managed a group of market research companies. In 1979 Godfrey, Olga and their children moved to Kent, where Olga had family, and Godfrey joined an international Management Consultancy, carrying out strategic assignments for major international companies in Europe, the US, Africa and the Far East, reaching the rank of Principal. In a complete change of direction, he and his brother later set up an Internet company specialising in Food & Drink, which they subsequently sold.
Godfrey and Olga have lived in the Hawkhurst and Sandhurst ward for more than forty years, have three children, all married, and three grandchildren. Sadly, Olga died just a few months after they celebrated their 50th wedding anniversary in 2019.
Since becoming a Councillor, Godfrey has taken a keen interest in planning matters. He was formerly Chairman of the Planning Committee and sits on the Planning Policy Working Group. He is also a member of the Overview and Scrutiny committees.