Mayor joins Rotarians to celebrate a century
Mayor of Tunbridge Wells Godfrey Bland was a special guest of the Rotary Club of Tunbridge Wells at their recent Centenary Dinner.
The event which was held at the Neville Golf Club, Tunbridge Wells on Monday 20 June 2022 saw over 100 Rotarians and guests come together to celebrate this notable anniversary. Other guests included Greg Clark MP and Chris Brenchley, Rotary South East District Governor. The Rotary Club of the Pantiles and the Royal Tunbridge Wells Round Table were also represented as were partner clubs in France and Holland: Rotary Club of Dunkerque and Rotary Club of Leeuwarden-Zuid.
During the evening Martin Atkinson, President of the Rotary Club of Tunbridge Wells was presented with Rotary's highest honour: The Paul Harris Fellowship Sapphire Award.
Describing the evening's events Godfrey said: 'We celebrated a hundred years of Rotary's wonderful work nationally, and internationally - but right since the beginning they have been just as generous to the Borough. The next day I attended the Concert for the Primary Schools at the Assembly Hall Theatre - sponsored, of course, by Rotary! Wherever you go in Tunbridge Wells, Rotary has left its mark. What a fine organisation.'
The Rotary Club of Tunbridge Wells has been part of Tunbridge Wells' life since October 1921, beginning as an early networking organisation it now plays an important role in supporting many worthwhile charities and activities. Typically the Club raises between £12,000 and £15,000 each year for charitable purposes.
Just last month outdoor gym equipment, which Rotary kindly donated as part of their centenary celebrations, was installed for everyone to use in Dunorlan Park, Royal Tunbridge Wells.
Local charities and organisations supported by The Rotary Club of Tunbridge Wells in recent years include Hospice in the Weald, Nourish Food Bank, Demelza, Life Education Centres in schools, Porchlight, Domestic Abuse Volunteer Support Services, Kent Air Ambulance, Bridge Trust, Salvation Army and the Sea Cadets.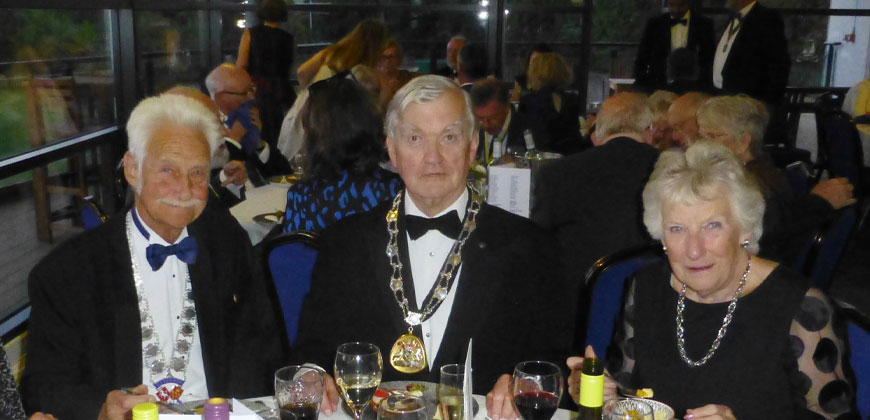 Pic: (l-r) Chris Brenchley, Rotary South East District Governor, Mayor Councillor Godfrey Bland, Mrs Pamela Atkinson.