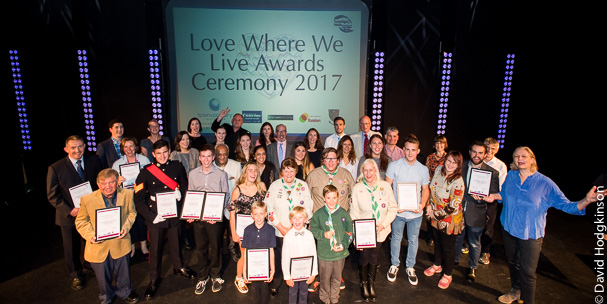 Alexander Runting was crowned the overall 2017 Love Where We Live winner in a ceremony that took place in the Assembly Hall Theatre, Royal Tunbridge Wells on Wednesday 4 October.
Alex also won this year's Young Volunteer of the Year award.
Alex was nominated for his volunteer work at The Cyber Café and with the IT team at St Gregory's Catholic School, giving his time and expertise to help others. He was praised by the judges for showing maturity and patience beyond his years guiding those who need assistance through the ever changing world of social media and computer advancement.
Eight awards in total were given out at this year's ceremony, ranging from Best Group and Charity of the Year to Young Sports Achiever and Individual Hero. Sports Training and Equipment awards also were presented to the four runners-up in the sports categories.
The winners and finalists for all the awards were:
Best Group Award
Winner - 19th Royal Tunbridge Wells St Matthew's Scout Group
Finalist - Calverley Adventure Grounds
Finalist - Royal Tunbridge Wells parkrun
Sports Achiever of the Year Award
Winner - Billy Hall
Finalist - Morwenna Everitt
Finalist - Annabel Guye-Johnson
Young Sports Achiever of the Year
Winner - Harley Curtis-Lawrence
Finalist - Rosie Dobson
Finalist - Izzie Mercer
Ethical Business Award
Winner – Trinity Theatre
Finalist - Cook
Finalist - Bidborough Stores
Charity of the Year Award
Winner – St George's Childcare
Finalist - Crossways Community
Finalist - Domestic Abuse Volunteer Support Services
Young Volunteer of the Year Award
Winner – Alexander Runting
Finalist - Cadet Sgt Shayn John
Finalist - Beau Lane-Winch
Individual Hero Award
Winner – Sybil Oddy
Finalist - Richard de Coverly
Finalist - Lester Gosbee