Dunorlan is a special place where everyone can enjoy a richly varied Victorian garden, meadows and wildlife, as well as the amenities of a modern park. Dunorlan Park is spacious and elegant with wild grassy slopes and magnificent views across the lake to the Weald.
History of the park
Dunorlan was once the private grounds of a large and very grand mansion built by the Yorkshire-born millionaire, Henry Reed, who made his fortune in Tasmania.
The garden was laid out in the 1850s and 1860s by the renowned Victorian gardener, Robert Marnock. The mansion no longer exists, but the garden is one of the best preserved examples of Marnock's work.
In 2003/4 the park underwent a major restoration costing £2.8 million, following a Heritage Lottery Fund award of £2.1 million.
Control of Dogs
As of 1st May 2022 a new Public Space Protection Order covering the Control of Dogs came into force in Dunorlan Park. A person in charge of a dog must keep the dog on a lead at all times in the formal area of the park, shown red in the map below. This includes both car parks, path around the lake, playground, café, terrace, cascade garden, avenue. Failure to comply with the order may result is a fine being issued.
Dogs are allowed to exercise off lead in the meadow areas, Events field and Victoria Cross Grove area, however, owners are reminded they must keep dogs under control in the off lead areas.
View Public Space Protection Orders
Attractions and facilities
Opening times
Dunorlan Park is open from dawn to dusk, 365 days a year.
Map of the park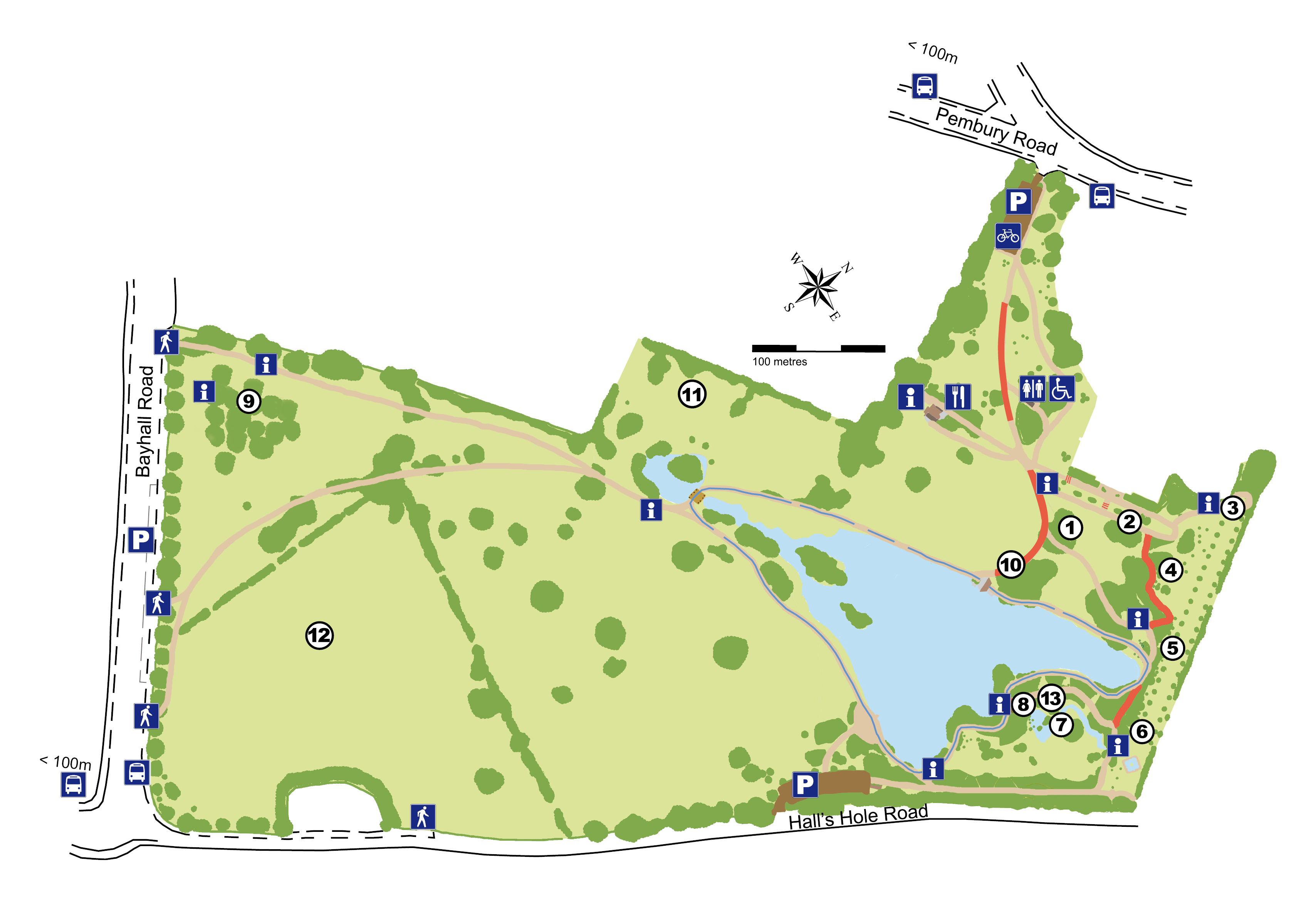 Dunorlan Park is naturally hilly. However, there is a relatively level path around the lake that can be easily reached from Hall's Hole Road car park. The red paths are steep and may not be suitable for some visitors. Steps are also highlighted in red.

Café

Car parking

Toilets

Disabled toilets

Bus stop

Bicycle parking

Pedestrian entrance

Information point