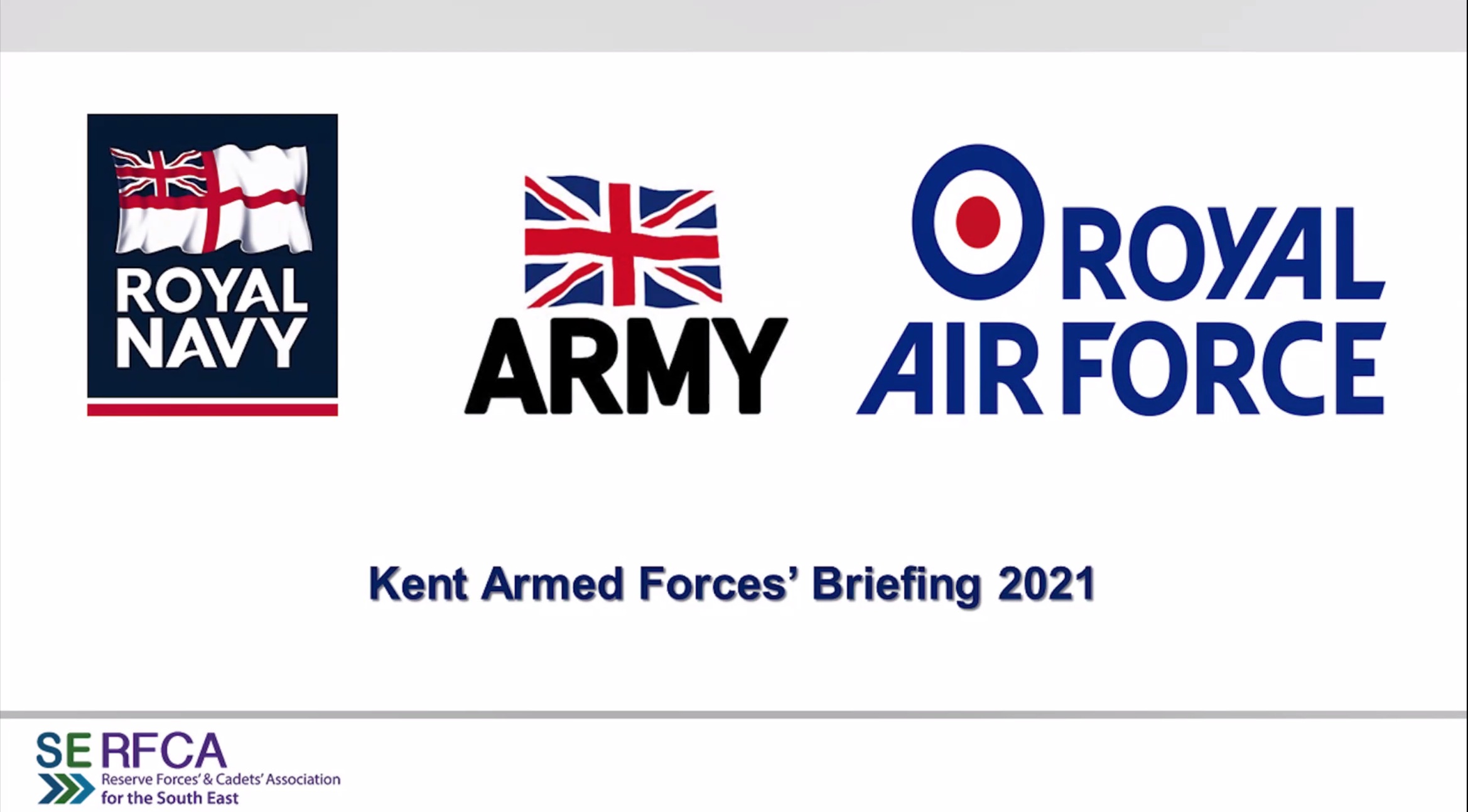 South East Reserve Forces & Cadets Association
I attended a very informative briefing yesterday evening provided by SERFCA (South East Reserve Forces & Cadets Association) - apparently pronounced 'surf-ka' by those in the know.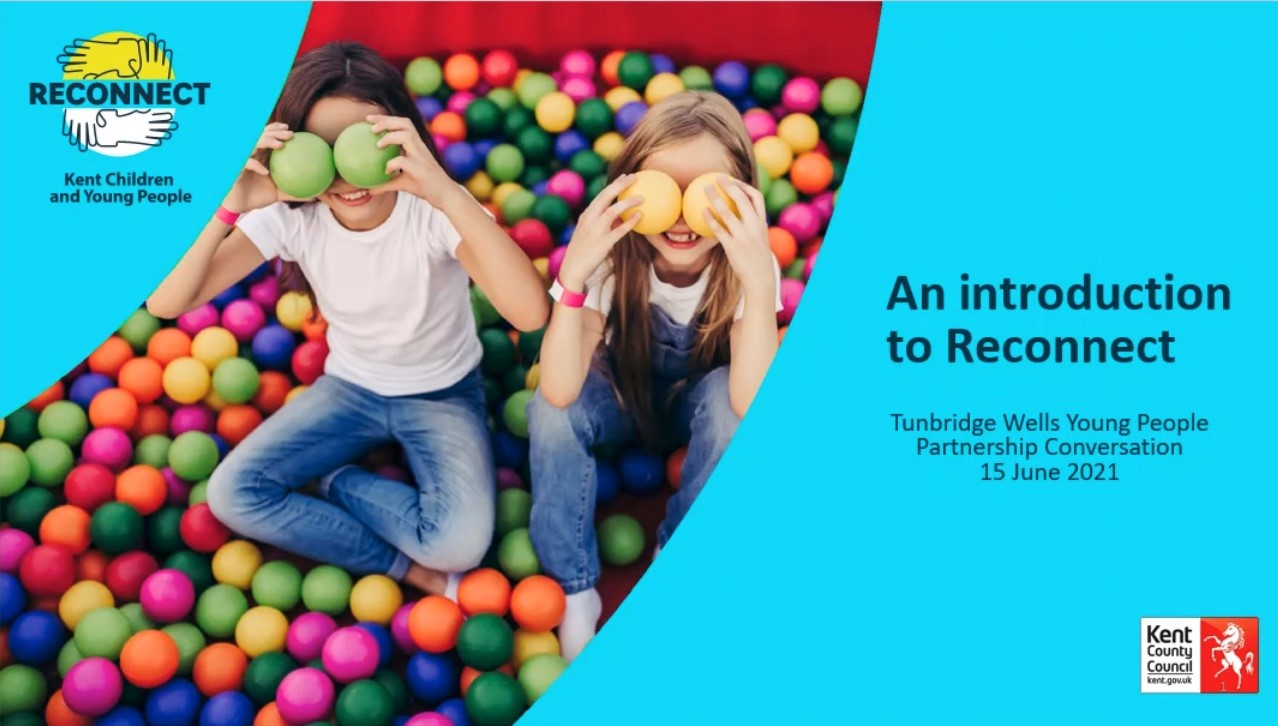 Young People Partnership Conversation
I attended the Young People Partnership Conversation, Tunbridge Wells, on Tuesday 15 June.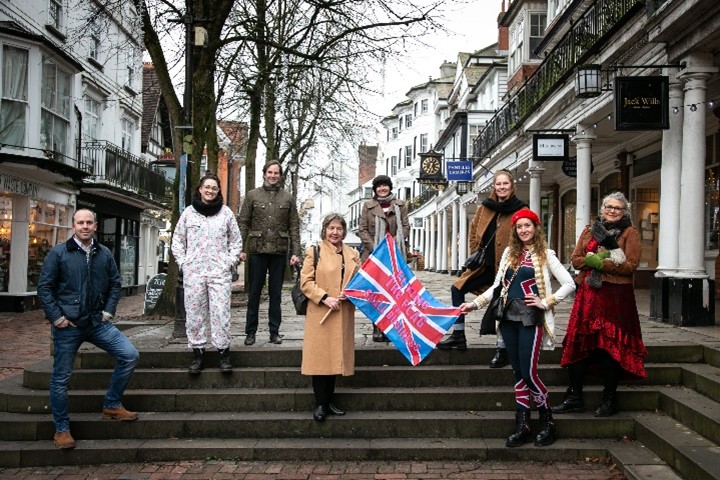 Flying the Flag for Small Businesses
With Holly Tucker MBE (founder of Not on the High Street).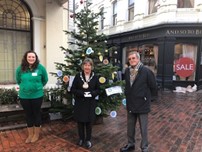 Launch of the 20th annual TW Rotary Club's Tree of Light Appeal
In support of Hospice in the Weald with Rotary President, Martin Atkinson, and Hospice Relationship Fundraiser Lead Manager, Rachel Heath.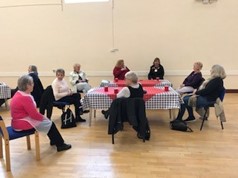 Pickering Cancer Drop-in Centre
Popped in to see how the Pickering Cancer Drop-in Centre is coping in Covid times, and Polly told me that they were coming up to their 16th birthday. A great achievement.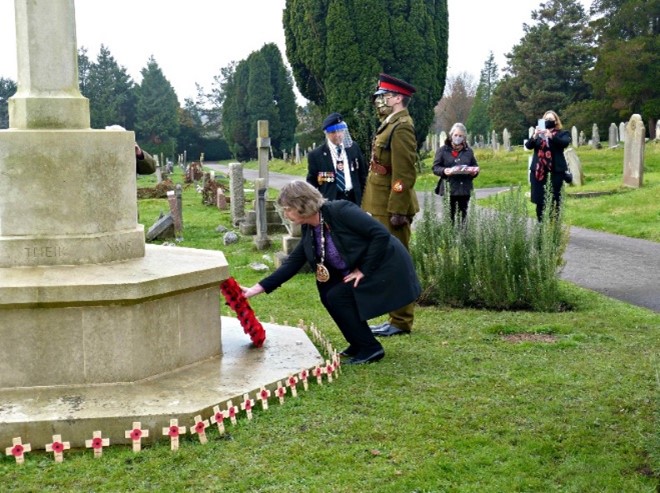 Wreath Laying at the VC Grove in Dunorlan Park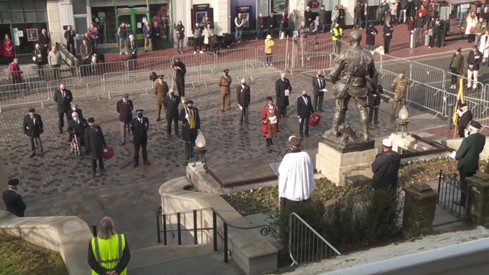 Remembrance Sunday at the War Memorial and the Cemetery
Opening of Tunbridge Wells Free School Playground with David Scott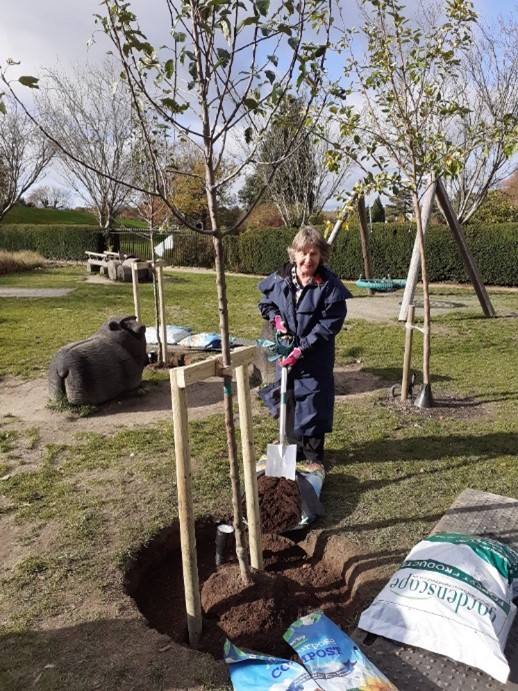 Replanting the apple trees at Calverley Ground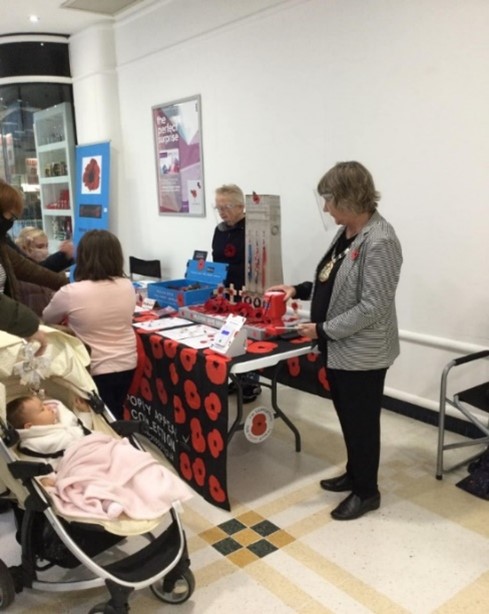 A busy afternoon selling Poppies in RVP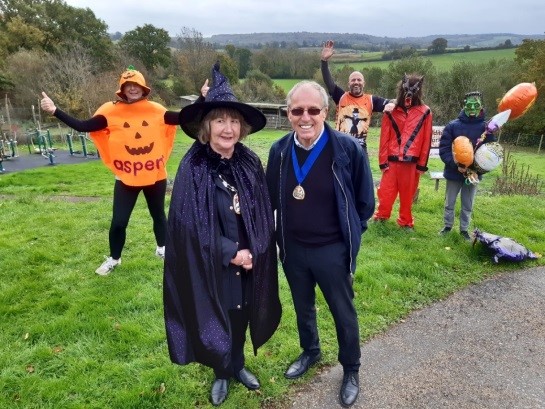 Aspens Halloween Virtual Spooky 5k sponsored walk/run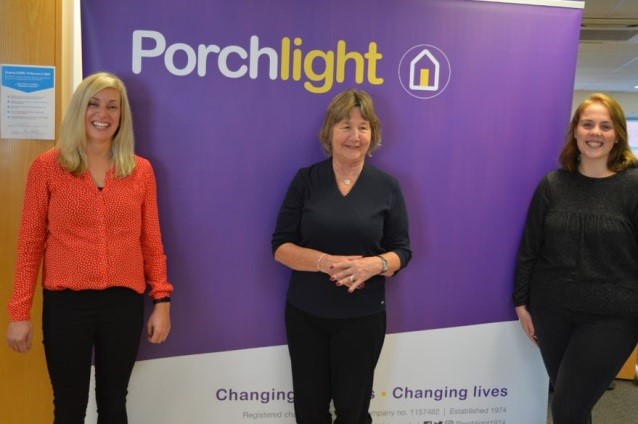 Visited Porchlight Head Office in Canterbury to catch up on their news
Donations to date have reached over £3,400!

RTW Symphony Orchestra
First Time back at the Assembly Hall in over 6 months.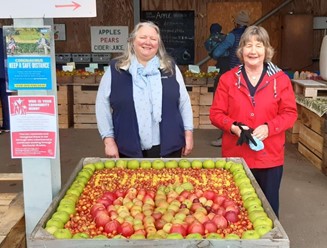 Carol and Joy at the Apple Pressing Weekend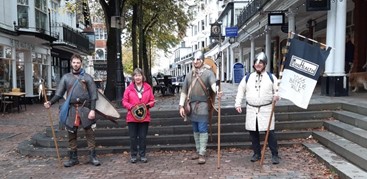 Well Done to Lewis
Well Done to Lewis who walked from York to Battle to raise money for ManHealth to raise awareness of male suicides. We were delighted to see such a worthy cause being promoted and so much being donated.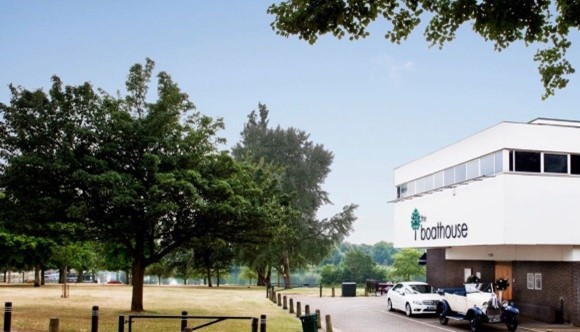 The Mayor of Bexley Fund Raising Event at Boathouse, Danson Park
A fun evening, we enjoyed a delicious BBQ and the company of several Mayors.
James Hunt, the larger than life Mayor of Bexley, worked in stage management.
He played in several pantomime productions at the Assembly Hall.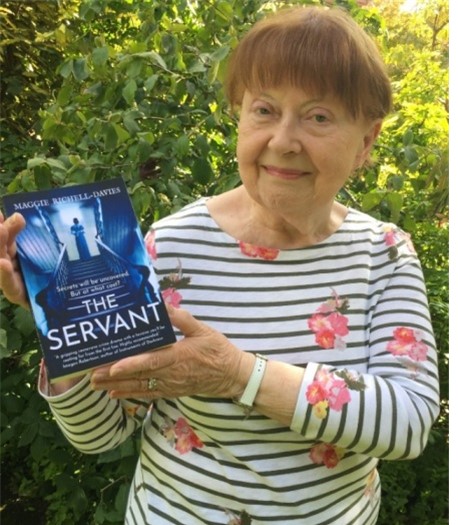 Historical Writers' Association 2020 Unpublished Novel Award
Met with successful local author Margaret Davies, writing as Maggie Richell-Davies today. She won the Historical Writers' Association 2020 Unpublished Novel Award with her debut novel, The Servant, together with a publishing deal with Sharpe Books.
Inspired by a visit to London's Foundling Museum, the thriller explores the exploitation of the female serving classes in 18th century London. Details about how she came to write it are on her website: Maggie Davies is writing Donations from sales are raising funds for a local charity.
Margaret, who worked for a number of years at the Town Hall as PA to Tunbridge Wells Borough Council Chief Executive, Rodney Stone.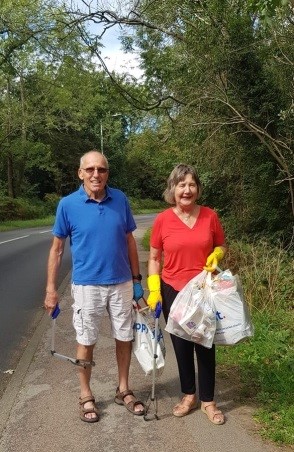 Litter pick
Following a productive litter pick on Tunbridge Wells and Rusthall Common, we decided to treat ourselves to a delicious Crab and Prawn salad at Toad Rock, Retreat.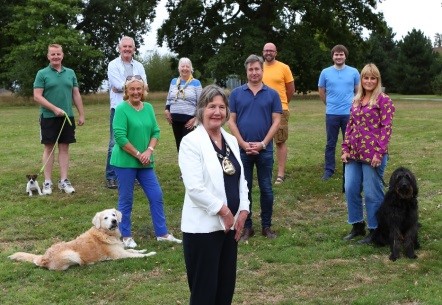 Friends of Hawkenbury Rec. Committee
We attended the launch of the new Friends of Hawkenbury Rec. Committee.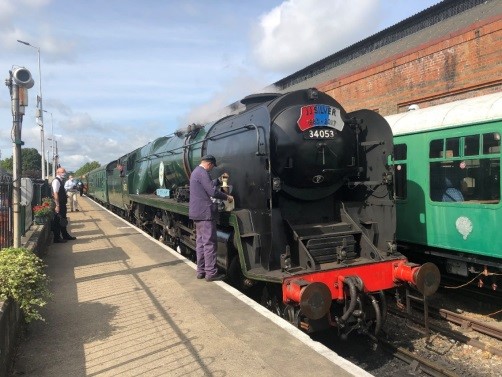 Sir Keith Park
Received an invitation for the inaugural journey to Eridge on an enormous historic Steam Locomotive, named after the man, that helped fight the Battle of Britain, Air vice Marshal Sir Keith Park.
You can find out more on their website: Spa Valley Railway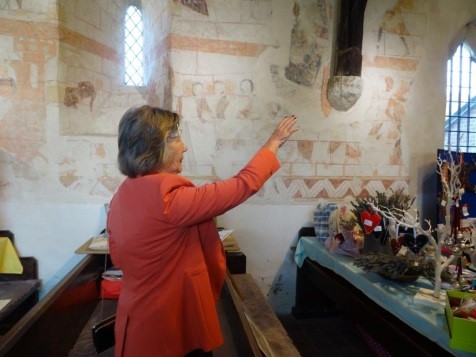 Capel Church Visit Art Exhibition
As part of the Heritage Week events we really enjoyed our visit to this historic building.
The walls are covered with paintings believed to date back to 1230 to 1250. Art and craft items were all made by local residents. Capel has a wonderful community spirit.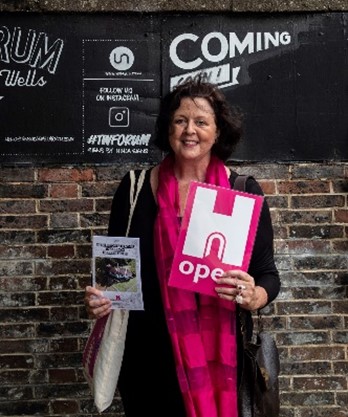 Heritage walk
Heritage Walk with Helen Mitcham Public and Commercial Building, Heritage Caring Profession Guided walks and photo exhibition.
DAVSS Visit
Met with members of the Domestic Abuse Volunteer Support Services (DAVSS) team.
It is an award winning community based charity supporting male and female victims of domestic abuse in West Kent.
Find out more on their website: DAVSS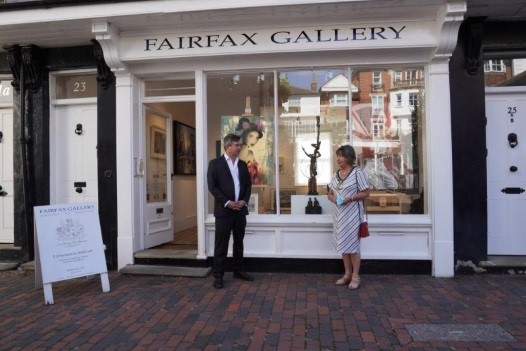 25th Anniversary Exhibition
Andrew gave us a very warm welcome to his premises, located on the Lower Pantiles. We had a most enjoyable and informative visit to his 25th Anniversary exhibition.
Most of the artworks are also displayed on their website Fairfax Gallery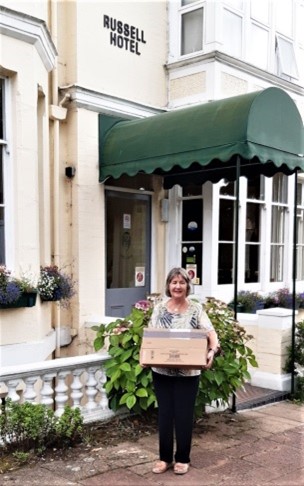 Frozen meals
Delivered the generous donation of free frozen lunches from two well-known Tunbridge Wells restaurants to the homeless at the Russell Hotel, Tunbridge Wells.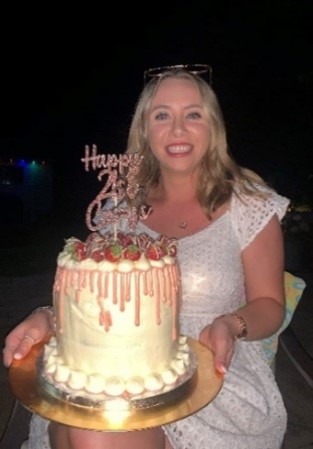 21st birthday
Our granddaughter celebrated her 21st birthday today.
Her fabulous cake was made by Joy at Bake me Happy at Rusthall.
You can look at her website here: Bake Me Happy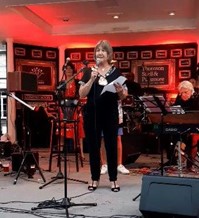 Jazz night is back on the Pantiles!
I was delighted to be invited to open the first Jazz and Dinner evening.
We met Lionel and his charming wife and were entertained by the music of Kate Daniels Quintet.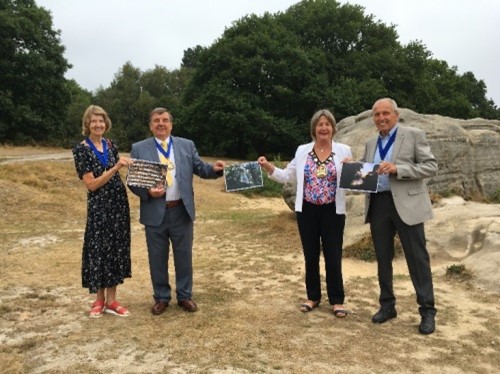 Commons Conservators First Photographic Competition
We met with Chris and Jenny for a photoshoot on the Common, to celebrate the Commons Conservators photographic prize winners.
The junior category winner -was Joe Refet, with a stunning dandelion and spider photograph.
The teen category winner - Nicholas Sander with his image of a bee's nest.
Adult category winner - Alyson Howard with her view of Happy Valley on Rusthall Common.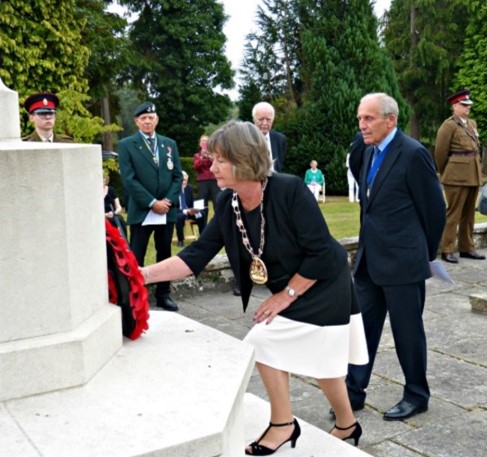 VJ day
Wreath laying at a socially distanced VJ ceremony at the Garden of Remembrance.
The names of the 16 men who never returned to Tunbridge Wells were read out.
Due to COVID-19 restrictions this was a much smaller event than usual, less than 30 people were in attendance.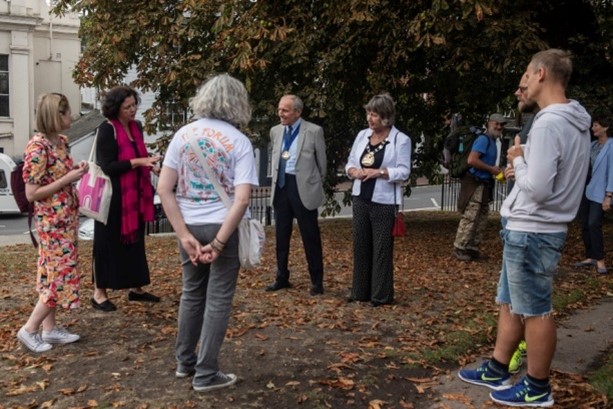 Forum and Fine Grind
We were invited to an event at the Forum and Fine Grind. A number of people joined us and spoke to us about the huge issues facing the music and entertainment industry in 2020, and the plans for future events.
Fine Grind is assisting by asking customers to make a small donation to the Forum each time they buy tea or coffee.
I was delighted to receive a copy of the interesting booklet of the History of Fonthill, which is the location of Forum.
This is one of the upcoming, online Heritage Day Events, Friday 11 September to Sunday 20 September 2020 inclusive.
Whilst there, we were taken to visit the site of the Cold Baths, and admired the work of the Friends of the Common, who had given the railings a fresh coat of paint.
Thanks to Carolyn Gray for organising a most informative visit, Nigel Martin for taking the photos, and Fine Grind for a delicious cup of coffee.
Delivering PPE
KCC Cllr James McInroy and I setting off to deliver quantities of Hand Gel and Face masks to several local charities' and community groups.
Including Nourish, DAVSS, Age UK, Rusthall Alms Houses, Pickering Cancer Centre. Bridge Trust and Folly Wildlife.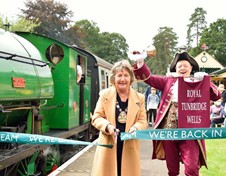 Opening of the Spa Valley Railway
A cold northerly wind did not spoil our visit to the Spa Valley railway. We were met by enthusiastic band of volunteers, who were obviously pleased to be back, after such a long break.
We were also met by Tunbridge Wells Town Crier, John Scholey who is also a volunteer on the railway.
A large team of volunteers has worked hard, cleaning the trains and equipment and installing COVID-19 protection measures.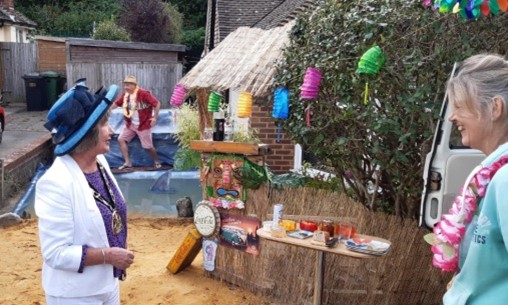 Front Garden Festival
Bank Holiday Monday we enjoyed a fun afternoon with members of the Banner Farm Residents Association.
We felt genuinely welcomed and managed to speak to a great many residents, we enjoyed every minute.
The children's fancy dress was great fun however, choosing the prize winners was not an easy task.
At the end of the afternoon we were served a delicious afternoon tea, a most unexpected treat.
Long service awards
Thursday afternoon, William Benson and I joined staff members celebrating their Long Service Awards.
There were 24 names on the list; three members of staff have worked for Tunbridge Wells Borough Council for more than 30 years.
We heard about their roles and how COVID-19 has impacted on their working and personal lives.
A few have decided to go back to the office whilst others are able to work from home.
Members of the Environment Team are also assisting with the COVID-19 Test and Trace system.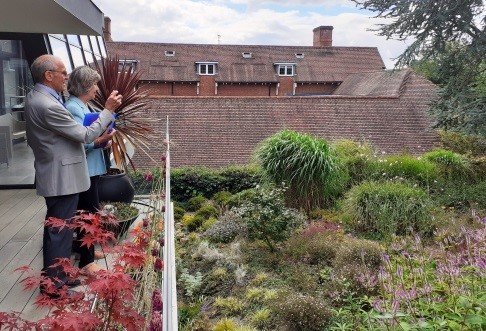 Tunbridge Wells in Bloom
We enjoyed a morning judging a few of the Tunbridge Wells in Bloom entries.
We met some wonderful people and viewed some gorgeous gardens, hanging baskets and containers.
The Parks Department now have the difficult task of deciding the final winners!
Mayor of Greenwich
Had a very positive Zoom meeting with the Mayor of Greenwich 15 July.
Due to health reasons she has to self-isolate however, she is managing to keep in touch with everyone by Zoom.
Full Council meeting
At the Full Council meeting 8 July, we bade farewell to Cllr James Scholes, Mayor 2019-20.
I chaired my first virtual meeting and found it quite a strange experience.